On Sunday, hundreds of people were arrested in multiple cities across Russia while protesting against corruption believed to be taking place within their government. Protesters made their presence in Vladivostok and St. Petersburg to demonstrate their dissatisfaction with the lack of transparency among Russian authorities. The largest of these protests occurred in Moscow where approximately 8,000 people participated.
Among those arrested was Alexey Navalny. The protests were facilitated in response to a YouTube video released by Navalny's Anti-Corruption Foundation, which criticized Russia's Prime Minister Dimitry Medvedev for his luxurious lifestyle. The video has received widespread attention and has amassed roughly thirteen million views since it was released earlier this month.
CNN described the protesters in further detail by writing,
"Few protesters carried posters and signs for fear of being rounded up by authorities immediately, but several waved rubber ducks in the air — a nod to the allegation that Medvedev has a bespoke duck house at one of his lavish properties.
Others hung old sneakers over trees, a reference to Navalny's corruption probe which highlighted Medvedev's apparent penchant for flashy kicks. The Prime Minister has frequently been pictured at public events in expensive top-of-the-range sneakers."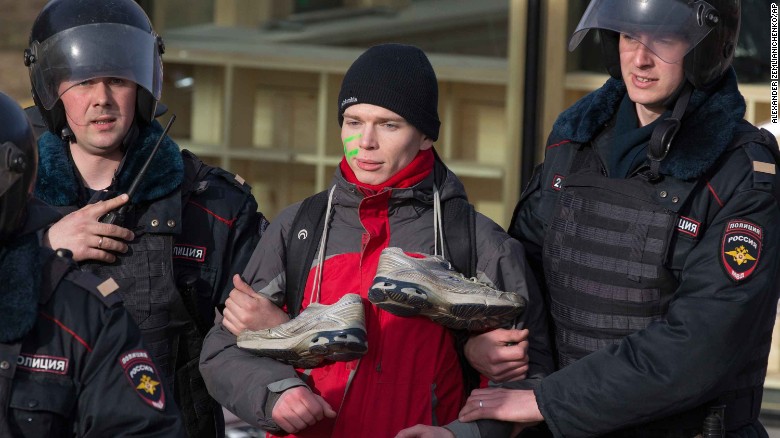 Since the arrests took place, Vladimir Putin has stated that the protests were an "illegal provocation" and therefore believes the arrests were justified. Although the Kremlin might see these arrests as warrant, they highlight the distaste towards government officials growing across Russia. Reuters reports how the unrest continues to build leading up to the next election,
"The protests, reckoned to be the biggest since a wave of anti-Kremlin demonstrations in 2011/2012, come a year before a presidential election that Vladimir Putin is expected to contest, running for what would be a fourth term.
Opinion polls suggest the liberal opposition, which Navalny represents, has little chance of fielding a candidate capable of unseating Putin, who enjoys high ratings. But Navalny and his supporters hope to channel public discontent over official corruption to attract more support.
A Reuters reporter saw police detain Navalny, who hopes to run against Putin, as he walked along central Moscow's Tverskaya Street with supporters, part of an unsanctioned rally as a police helicopter circled overhead.
Police put Navalny in a truck around which hundreds of protesters crowded, trying to open its doors."
The U.S. Department of State responded to the events by stating:
"Detaining peaceful Protesters is an affront to democratic values."
Other U.S. public officials condemned the Kremlin's refusal to allow the protests to occur. Nebraska senator Ben Sasse stated, "Putin's thugocracy is on full display. The United States government cannot be silent about Russia's crackdown on peaceful protesters. Free speech is what we're all about and Americans expect our leaders to call out thugs who trample the basic human rights of speech, press, assembly, and protest."